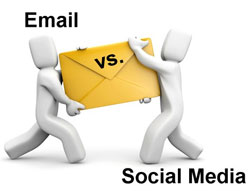 Contrary to popular belief, video didn't kill the radio star, YouTube didn't knock off TV and Twitter didn't shut down blogging. However, in each case the steady advance of new technology definitely forced the incumbents to evolve. One can argue, for example, that some of the more established blogs on the web benefited greatly from building content strategies that engender massive link sharing on Twitter. Much the same, TV ad creative has changed to facilitate additional exposure on YouTube.
Enter e-mail marketing, which, to some degree, has been beaten down by regulation, and has taken a backseat to social networking. Nielsen revealed last week that e-mail's share of time declined 28%, putting it in third place, while social networking, the leader, climbed 43%.
Despite these attention currents, however, the reality is that e-mail is stronger than ever. According to an eConsultancy study of 1,400 U.S. consumers, 42% said they prefer to receive ads for sales and specials via e-mail compared to just 3% who said the same for social-networking sites and 1% who preferred Twitter.
Savvy marketers are beginning to see that if they leverage all of their channels effectively, they can increase their overall ROI and, in the process, establish a deeper bond with customers and influencers.
They will have help.
Quietly and steadily, email marketing is evolving and turning more social, thanks to a blitz of homegrown innovations, acquisitions and start-ups that are reinventing the platform. Many companies are building end-to-end "social CRM" tools that will help marketers manage their relationships by mashing up existing customer touch points and social-networking sites.
Here's a look at some of the companies in the space:
As more marketers apply analytics across the entire marketing spectrum (online and offline) and tap into tools like the ones mentioned above, the mentality will change from reach to relationships. In the process, both e-mail and social-media marketing may gain, but what's clear is that the two are increasingly made for each other.