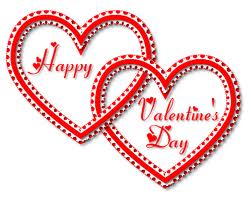 Valentine's Day is the second most popular gift-giving holiday (behind Christmas), according to a recent survey by ORC International. More good news for marketers: Valentine's Day falls on a Tuesday this year. This is a really good thing for online marketers considering you typically get better optimization with your ads on weekdays.
Among the top searches people are conducting on Google:
valentines day meals
diy valentines gifts
valentines day border
valentines day drinks
valentines day baskets
Facebook & Twitter:
If you have a large following on these two sites then great, if not then make it another opportunity to gain more followers with your promotions. It's nearly at the point where reaching individual people will be way easier through these social media platforms, so make sure your promotion involves being active on one of them. I usually recommend to our clients to make a contest up that involves Tweeting something, or at the very least, they have to be a part of the company Page to get in on the action. If you make the promotion involve user generated media, then you stand a greater chance of having your product seen due to the customer showing off their entry.
Coupon Marketing:
A quick Google search for Valentine's Day coupons brings up all the usual suspect sites where you can submit your special coupons. This also will lead you to special coupon sites that only deal with this days deals. After some browsing down after the 3rd a 4th page it was also apparent that there were some old coupon pages that you could attempt a good old fashioned direct email campaign out on.
Google Discussions & Blog Search:
I'm a huge fan of Google's blog search, and even more the Discussions section of their ever growing list of useful tools. A search here for Valentine's Day Deals brings up over 250,000 results….needless to say that's going to take forever and a day to break down by even a team of marketers. While this is an ok example, use my advice to sniff out the more niche opportunities within your companies market.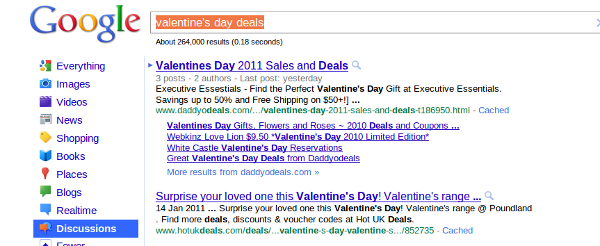 While this wasn't a huge list, this should be enough of a start to keep you very busy from now until the 14th of February. There are other things you can do to attract attention, so get your thinking cap on and figure out what else lies out there. While I'm not the first to write on the topic, I can lend you some more help by linking these great posts on the subject;