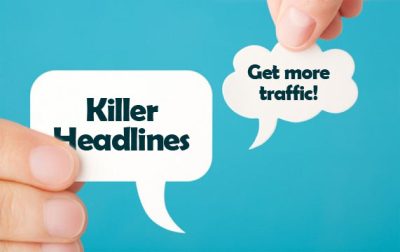 So how did you end up here?
Maybe you were browsing Twitter, maybe it was a Google search. But these don't answer the question.
What led you to landing here, on this single article page? The answer is most likely: the killer headline. That iss what originally caught your attention and made you decide to click and read this article.
That's what an effective attention grabbing headline does. It catches your attention, connects with you in some way, and compels you to either click into the page, or keep reading further.
A poor headline does the opposite: either you'll click the back button on your browser, or, in the case of Twitter, a poor headline fails to grab your interest so you will skip right past it.
In other words, it really doesn't matter how insightful your post is, or how perfect your product landing page is, or how hilarious that video you've created is. If your headline fails to do its job, your audience will never get far enough to appreciate all of the work you've put into your content.
This article will cover a few tips and techniques for devising a great effective headline. These ideas will help you keep a larger number visitors fascinated as they read through your landing pages and hopefully end up engaging with your products or services. We will also look at a few ways we can design our headlines to stand out and command attention.
First, let's debunk a few myths about writing headlines.
Common Misunderstandings
"A headline should summarize the page"
Don't try and re-tell the story of your page in one sentence and call that the headline. First of all, that's simply not possible. Second, if you take this approach, your headline will either be very bland and boring, or it won't make sense.
Rather than trying to encapsulate the entire body of work in one sentence, try picking out the single most interesting or surprising idea and use that as the basis for your headline. Here's an example of a (boring) headline trying to tell the whole story:
Copywriting and typography design techniques for headline writing, and more
This would be better:
Everything You Thought About Headline Writing is Wrong
"As long as it's attention-grabbing, say whatever you want!"
Also a bad idea. Sure, you might draw lots of eyeballs and clicks if you use a headline like:
Watch This Kitten do a Backflip as Jealous Dog Watches in Awe
But if your page has absolutely nothing to do dogs and cats, then that traffic won't stick around for long. They certainly won't make it far enough through your page to buy from you or subscribe (or whatever your end-goal is). Click-bait headlines like these simply don't produce the results that you're going for.
The headline must be relevant to the content on the page. It should be intriguing, or surprising, or even shocking in some way, but that should be a lead-in to get the full scoop further down the page.
"Size doesn't matter. Headlines can be as long or short as we want!"
When it comes to writing that top headline, size actually does matter, to an extent. The only rule of thumb I'd give you here is don't make the headline too long.
If the top headline on your landing page spans three or more lines, the length will soften the impact of a great headline. A great headline hits you like a ton of bricks and grabs your attention. Three or four lines of really big text takes a few moments for a reader to sift through, which in this fast-paced world of the web, can be an eternity.
Another reason not to go too long would be if your headline might end up in a Tweet or an email subject line (as they often do). Tweets obviously need to be shorter than 140 characters, but you'll also want to leave room for "@usernames" "RT…" etc. Email subject lines tend to get truncated when they've gone past seven words or so. Your headline won't have the same effect if the audience can't read most of it.
That being said, I wouldn't go so far as to say "the shorter, the better." Your primary goal is to make your headline compelling and attention grabbing, not to endlessly trim down the word count.
Too long:
Why Everybody And Their Grandmother Should Upgrade Their Browser And Stop Using Internet Explorer 6 So They Can Finally Experience The Web The Way it Should Be!
Better:
Have You Upgraded Past IE6 Yet? You Could Be Missing Out.
Tease Your Readers
Knowing your customer and your audience member on a deep, almost personal level, can go a long way to helping you write highly effective headlines. Think about how you interact with your best friend, or your brother or sister. You know them so well that you know exactly how to push their buttons, or tease them.
That's essentially what you're aiming to do with your headline — tease your readers, without going overboard.
You want to catch their attention with something surprising or almost shocking. You also want to identify with their specific pain point so that they care about what you have to say. The trick is to not give away what they want until after they've moved past your headline and read the article.
Don't give away the solution or the answer they seek inside your headline. Simply imply that you have the solution by stating the problem. This gives your reader an incentive to read the sub-headline, and then the first paragraph, and so on.