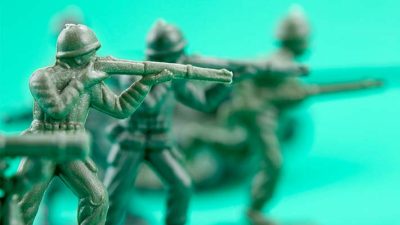 Facebook and other social networks are great for engaging and keeping in touch, but nothing beats owning your data (such as customer lists) and being able to reach prospects or customers in their inbox with your personal and pertinent message.
While Facebook should be part of your marketing strategy, don't forget the value of email marketing. Strong email marketing allows you to nurture prospects and build relationships with existing customers. So, a powerful marketing strategy needs to incorporate both email and social media marketing.
Successful Email Marketing
When used correctly, email is an extremely viable platform for marketing products and services. Since e-mail took off in popularity in the mid-'90s, email marketing has evolved. Junk mail folders have rendered spam all but useless, and those emails that make it past bulk mail filters are often overlooked based on the subject line alone.
The increase in mobile device usage means consumers are looking at emails on smart phones and tablets, usually while on the move. Often, those users only open emails that are relevant to them, scrolling past any email that doesn't immediately grab them.
Taking this new technology into account, savvy business owners can find ways to launch successful email marketing campaigns.
"It is more imperative than ever for digital marketers to adopt and integrate mobile marketing tactics into email and their overall marketing mix," said Kara Trivunovic, vice president of agency services for digital marketing strategy firm StrongMail. "Email marketers who are serious about garnering and maintaining consumer attention in this new era of mobile need more than just a solid strategy; they also need the right tools and resources to execute."
In 2012, a successful email marketing campaign needs to follow these guidelines:
Make your subject line pop. Today, it's all about the subject line. A good one may get your email opened, but a bad one doesn't stand a chance. Put yourself in your customers' shoes and decide what key words encourage you to open an email.
Keep it brief. Your customers are busy, so if you don't get to the point quickly, they'll move on to the next email. If you include images, keep in mind your customers will be reading your emails on mobile devices and be sure to optimize them for viewing on small screens.
Give the customer what he or she wants. Whether it's a coupon, exclusive discount or informative content, your customers are reading based on what's in it for them. Several national restaurant chains consistently offer coupons via email, which not only increases foot traffic, but prompts people to open the emails when they appear alongside the offers for "Free Daily Deals" and "Special Holiday Sales."
Avoid newsletters. Your customers won't read them.
Successful Facebook Marketing
While some business owners claim to be suffering "Facebook burnout," the truth is, Facebook is still the most popular social networking site in the world. One of the most appealing things about Facebook is its demographic. According to marketing executive Ken Burbary, 50 million of the site's users are between the ages of 18 and 25, with another nearly 30 million between the ages of 26 and 34. Since most marketers know that 18-35 is the ideal demographic for influencing purchasing decisions, it's no wonder Facebook has become the go-to place for businesses to market new products and services.
To be successful, small businesses need to modernize their marketing efforts to meet today's Facebook environment. Since there's more competition than ever for social media member attention, it's important to market to consumers without making it seem like you're marketing. Here are a few tips for competing in today's crowded Facebook business environment:
Encourage likes. Your customers can't read your status updates if they aren't seeing them on their newsfeeds. Consider a giveaway or discount in exchange for likes on the site. This will increase the range of your marketing efforts, improving your odds of success.
Keep it short and snappy. Your status updates should be brief and to the point, giving consumers information that is useful to those reading it. Remember, your consumers are tuning in to find information they can use.
Interact. Social media isn't a one-way street. If you post a poll or information about your product or service, respond to some of your comments. By having an interactive presence on your Facebook page, you'll show customers you care.