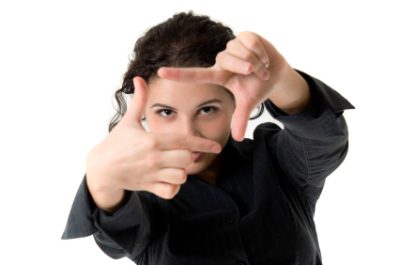 What does the customer want?
The customer — I chose the singular for a reason. The most effective online marketers have one thing — the word You — written boldly on a sticky note and forever attached to their frontal lobes.
"You" is a person your marketing strategy must focus on, a word your copywriter must use, the living, breathing person your designs need to appeal to and your social media specialist must connect with.
"You" has five senses. Can your marketing team state in no uncertain terms what he or she wants to see, hear, smell, touch, and taste?
"You" opts in or out. "You" follows your company or a competitor. "You" either does or doesn't find your pages and posts via search. "You" affects your numbers, but is far more complex than a zero or a one.
So what's wrong with "We?"
A week or so ago, I'm on the phone with a new client and his marketing team. They want my honest opinion about their home page, so I give it a quick once over and say, "It's all so self-serving. The word 'we' is the subject of practically every sentence.
Someone on the other end of the line doesn't like it. "What's wrong with we?," he protests.
If I was in the same room, I might have kissed him for writing such a great line for me. Though it's the bane of copywriters the world over, in one form or another, clients have been asking this question since the beginning of time.
I go on to explain the website visitor isn't there for we. He's not interested in your company. He's dealing with a challenge. That issue got him a-Googling, and lucky for you, it drove him to you.
If you feed him a steady stream of "we, we, we," and start singing your own praises, he'll bounce right back to the search engine and find someone who's going to help him solve his problem.
That's what's wrong with we.
Now for a clinic in you.
The most effective marketers focus on the customer. While it may be the oldest lesson in marketing communications, all you have to do is read corporate websites to be reminded how often it's forgotten.
Track the changes that really matter
The "you" path tends to take unexpected turns. That is to say, if you create a map and follow it forever more, you're bound to get lost.
The goal is to connect with and meet the needs of your audience—people—and people change. Brian Clark reminds you of this in the Copyblogger ebook The Business Case for Agile Content Marketing.
So, when you understand the need to be agile with your online marketing endeavors, it follows you'll then stay perpetually tuned-in to the mindset of your target audience.
As Pamela Wilson explains in How to Create an Agile Content Marketing strategy (and Stay Sane Doing It), you need to determine which content your audience responds to and adjust accordingly.
Remember the one thing that doesn't change
You're not going to dig into any deeply useful source about content that doesn't get into search, about social that doesn't get into content, and every other conceivable combination.
These strategies are awesome. In this age dominated by all things digital, online marketing (done right) is more powerful than ever.
But the landscape evolves faster than ever. In the field of marketing, the lines will continue to blur. The tools and tactics we rely on will continue to change.
The need to focus on the customer will not.