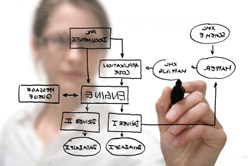 1. Welcome your visitors
They came to your website for a reason, and that reason needs to be addressed pretty quickly. People don't have a very long attention span, so it is important that you catch their interest; let them know that you understand their problem and that you can solve it for them. Make sure your message is concise and to the point without a lot of extra fluff. Otherwise, they won't spend the time to wade through all the "wordiness" and not even find out that you can save them thousands of dollars a year or increase their business sales.
2. Make sure the page is scan-able
Readers should be able to take a few seconds to glance over your home page and have a good, general idea of what the site is about. Use headlines, use bullet points, use sub-headings and make quick points. If you choose to have a couple of paragraphs about your business and how it can help potential clients and customers, convey these ideas in short, catchy paragraphs that make them want to click on other pages; you can have more details within those pages.
3. Make site navigation simple
This is two-fold. For one, the page tabs should be easily recognizable. Most websites have tabs across the top of a webpage, and often on the sidebar on other pages within your website. The key is to keep them consistent. Use the same titles for each tab. If you call one page "About Us", then this same title needs to be used any time you are referring to this page; don't call it "The History of our Company" on another tab title within your site. The second thing to remember is that some people get lost on websites and are unsure of where to go from the home page. Make it easy for your readers by inviting them to "learn more about us here", or "if you have questions, feel free to visit this page", or "see the services we offer here".
4. Talk directly to your reader
In using the word "you" frequently, it is as though you are speaking directly to that one person, and it seems more personal. Think about this- if a website said, "We can save our clients hundreds on insurance each month," well, good for all those clients! But what if it said, "We save you hundreds of dollars on your insurance each month"? That sounds good to me! They are talking specifically to me! I could use an extra few hundred bucks a month.