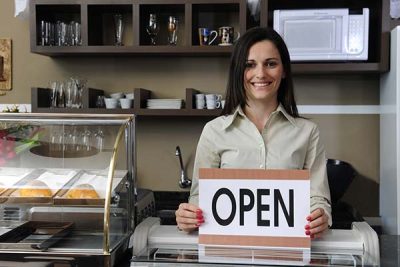 Here are 5 tips for making your business remarkable and getting people talking. I'll back up the theory with some practical applications of these ideas for businesses that you don't typically think of as 'remarkable'.
1. Do The Unexpected – Surprise, Don't Shock
Don't allow your business to be an 'also-ran' and fade into the background. Find a way to deliver something above and beyond what people expect. It doesn't have to be extravagant or strange, just surprising. Your customers should say 'I really didn't expect them to do that, but I love it!'
Example: Commercial Cleaner
Commercial cleaners clean offices and premises late at night when employees have gone home. Their work is rarely witnessed or praised by the office workers who benefit. But what if the cleaner was to do something a little different to leave their mark? What if a cleaner left a foiled-wrapped chocolate resting on your keyboard so when you get to work the next day there's a treat waiting – that's a nice way to start the day, right?
Or each cleaner could be issued with a sticker with their name, photo & message on it – 'Have an excellent day!' They could leave a sticker on every desk they clean which reminds the office workers that someone is there at night, working hard for them, and that person has a name<. It humanizes an otherwise faceless business.
2. 'Going The Extra Mile' = Business As Usual
Treat customers with a level of service that they just don't expect, and act like it's normal for you to do this. 'That's just the kind of business we are!'
image courtesy of Clever Cupcakes: http://www.clevercupcakes.com/
Example: Plumber/Handyman
When a customer calls you out to their home to do a job, don't go empty-handed.
Take them a muffin or cupcakes as a treat. You should act as if you're a guest in their house; guests are courteous and they bring gifts. It only costs you $0.50 a time to do this and you can bet they'll remember the next time their faucet breaks they should call the guys with the cakes!
3. Be Bold, Not Boring
Everything you do is a marketing opportunity and you need to make the most of it. Look at the assets you have from your storefront to your branded plastic bags. Do they make people stop and look? Do your customers say 'hey, great bag, that's really cool!'
If they don't, then you're not doing enough to make your business memorable.
Example: Dry Cleaners
All dry cleaners use the same sort of polythene bags to protect customers' clothes, and every customer carries this bag down the street in full public view.
Yet every bag from every dry cleaner looks identical – transparent with a logo stuck on it. What a great opportunity to stand out and get noticed. Why not switch colors and go for a glaring bright pink bag, or be bold and get some daring designs printed with people in their underwear (funny & relevant).
4. Work Doesn't Have To Be Just About Work
You want to make your place of work more than just where you work. It should be a social place that people like to come to and have real character. Customers respond to the genuine, personal approach so get out from behind the counter and show them your fun side.
Example: Optician
You want to build up a relationship with your customers so they both trust you and like you.
Why not use your empty store at night for a wine-tasting event? Invite your customers in for an evening of fine wines and run it in conjunction with a local wine merchant – they provide the wine and advice, and you offer a free & fun evening for your customers. And again, be playful with it – call it 'Glasses half empty'.
5. Reward Loyalty With REAL Rewards
Rewarding loyalty is an obvious thing to do, but don't do the typical thing of offering customers more of the same. You want to extend your relationship beyond your store so that customers really remember you and appreciate you.
Example: Dry Cleaner
Create a loyalty scheme that rewards customers for every 10th visit they make to your business. But don't offer them 1 free clean – that's so predictable!
Again, team up with a friendly local business, maybe a restaurant or a salon, and offer a free lunch or beauty treatment (good lead generation for that business). Then when that customer is enjoying their free lunch or getting pampered they'll think of you.