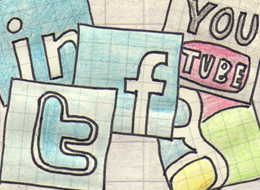 With social media itself an exponentially growing trend that's here to stay, many companies both small and large are keeping tabs on new social technologies as they emerge. With new sites, services, apps and practices that help businesses connect more directly with customers coming online at a rapid pace, it's often helpful to zoom out a bit and keep an eye on upcoming trends on the cusp or just over the horizon.
Whether or not particular individual services succeed, the following trends are likely to stick around in the near-term future. Some may not be immediately relevant to your company or industry, but being aware of oncoming movements in the social media landscape can help keep you and your business out ahead of the curve when a new trend holds promise for your organization's growth.
---
1. Location, Location, Location
---
It's always been true of real estate, but increasingly so it's true of almost everything online. Sites like Twitter now allow you to attach location information about where a tweet is sent from, and Facebook has announced intentions to support location information as well — even if they don't quite know what that will entail just yet.
In the mobile space, a number of standalone apps exist primarily to let users "check in" and broadcast their current location to their friends. From Foursquare to Gowalla, new startups are racing to amass "location mindshare" and be the world's go-to application for sharing your whereabouts. Established players such as Google are also getting into the game with services like Google Latitude, which allows your location to be updated automatically if you're comfortable with that level of privacy setting.
Overall, the focus on location is great news for a lot of small businesses, many of whom have vested interest in catering to a local clientele. Even Yelp, one of the gold standards of local recommendations, has added a checkin feature similar to what apps such as Foursquare and Gowalla provide.
---
2. Group Buying
---
Group buying is a system in which consumers can "gang up" to get deals or discounts on services or products. The focus here too is fairly local, with a number of sites such as Groupon and LivingSocial offering daily deals to users in specific cities. If enough users sign on for that day's deal, everyone gets to participate; conversely if the minimum number of signups isn't met, no one gets a chance to take advantage of the deal.
Not too long ago we took a look at the group buying trend through the lens of whether or not small businesses should care yet. Essentially it's opportunity but not obligation — nevertheless, particularly for local retail establishments it's probably a great development to keep an eye on. Think of it as an opportunity to both reward your most loyal customers as well as attract new clientele who may discover you through a daily deal.
---
3. Mobile Ads
---
Dovetailing with the location trend, advertisers are finally able to take advantage of mobile ad platforms that let them reach consumers at critical junctures, such as the moment just before they make an in-store purchase. Being able to reach a customer on the go or near the point of sale can be a very powerful mechanism for brands looking to connect with potential audiences.
Less than a year ago, Google acquired AdMob, a mobile ad platform large enough to attract scrutiny from the FTC over the deal — which was eventually approved at the end of May. Apple's new iAd platform brings new swagger to the playing field, with an ambitious goal of improving the mobile ad experience to the end user by avoiding making them leave whatever app experience they are currently in.
With Google's Android and Apple's iPhone OS (now simply dubbed iOS) two of the most dominant smartphone operating systems in terms of mindshare and increasingly install base, the mobile advertising space is set for a serious jolt in the near future.
---
4. Mobile Payments
---
Yet another trend in the naturally social world of mobile is the ability to both make and take payments right from the phone. A startup dubbed Square, a project of one of Twitter's founders Jack Dorsey, has developed a dongle that attaches to the iPhone's headphone jack that allows credit card transactions to be processed right on the spot.
Existing major players in the finance space such as Visa are getting into the game too, with stated intentions to continue pushing forward aggressively in the mobile payment arena. PayPal too has a popular mobile payments app for the iPhone, Android and BlackBerry platforms.
And while all of the above is just starting to trend in the United States, the developing world has been driving rapid adoption of mobile payment services for some time already. Add to all that the ability to make microtransaction purchases within a wide variety of mobile applications beyond specifically payment-oriented apps, and we've got an emerging ecosystem small businesses are going to want to pay close attention to.
---
5. Having a Social Media Policy
---
As more and more businesses dive head-first into the raging waters of social media, having an official company policy surrounding individual tools and services is becoming increasingly more commonplace. Whether it's a simple one-page set of guidelines or full-blown documentation regarding what is and is not acceptable employee behavior surrounding social media, that information is something many companies are going to want to provide to existing staff as well as new employees and contractors coming on board.
Official social media policies may vary as widely as company cultures do, but no matter what the nature of your business, it might be good practice to consider if you're wading into social media waters in any strategic manner. Many of the guidelines might sound like common sense, from "exercise good judgment" to "be responsible," but those sentiments can still be powerful reminders to staff, along with any more concrete rules about what is acceptable especially when representing the company via social media.