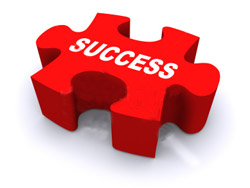 Timeliness is extremely important when it comes to setting expectations and conducting business online. Today, we look at two companies: one that gets this and one that doesn't.
A Call From NaturesStore
I ordered vitamins online a few weeks ago fromNaturesStore.com, with which I was unfamiliar. It could be big or small. The site itself has a very amateur look about it, so my guess is it's a small business. But I took a chance because I liked the product selection. It's been a couple of weeks, and the product still hasn't arrived. But on Monday, I received a voice message. The company called to tell me there was a delay in getting the product and assured me it would be sent shortly. Though the delay is certainly inconvenient, a personal phone call explaining the problem is extremely effective at both informing me about the delay and putting a real voice to the company. I might not have shopped with it again due to the delayed product coupled with the fact I'd never heard of the company. Now, I definitely will. It attended to me in a more personal manner than its larger counterpoints and has earned my respect.
New Music Tuesdays
On the other hand, I've been both amused and frustrated lately by Apple's "New Music Tuesdays" e-mail messages, which Apple sends weekly to inform customers of what's new. The messages land in my inbox on either Wednesday or Thursday, not Tuesday. It's terrific Apple wants to keep me informed of new music. But by setting the expectation that I'll get this e-mail on Tuesdays, it distracts me from the e-mail content itself as I wonder what went wrong with its delivery mechanism. Simply calling these e-mail messages "This Week's New Music" or something similar would solve the problem. The e-mail isn't personalized, so the content tends to contain genres of music I don't care about. The net effect is the e-mail is a day late and a dollar short.
Rules for Setting Timeliness Expectations
Setting expectations around timeliness isn't brain surgery. A few simple rules to follow:
If your marketing campaign is targeted to a specific day (e.g., Tuesdays), make sure the campaign is actually delivered on that day.
If you run a campaign against a holiday (e.g., Father's Day), make sure you leave enough time to get your e-mail delivered before the holiday passes.
If something's delayed an inordinate amount of time, keep the customer in the loop. If you have the resources to do this personally (via a phone call), it makes a stronger impression than e-mail. If you only have the ability to e-mail, make the message personal by using a template that sounds like a customer service rep wrote it. Sign it with a real person's name, not just "staff." An impersonal backend email from the warehouse isn't friendly.
Timeliness reflects your brand and level of professionalism. So long as the correct expectations are set, people give you the benefit of the doubt. If things go awry, people will forgive you if you handle the situation in a personal manner. It's not brain surgery, but many companies still don't seem to get it.