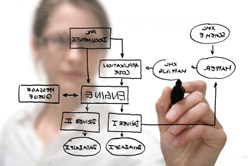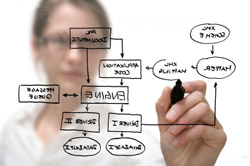 Practical eCommerce recently asked a number of industry insiders to share a great, innovative idea that could potentially help an eCommerce firm. Here's what ten more of them had to say.
Work To Build Customer Loyalty
Eric Shoup
Director of ProStores
Ebay.com
"In a world of high technology, it's the personal touch that stands out. Build customer loyalty by adding unexpected little surprises to each order. Examples include free samples, a candy bar, or simply a hand-written "thank you" card."
Consider Affiliate Marketing
Harvey Braswell
CFO
Tiger Motion, Inc.
Neoscooters.com
"Pick a time once per week to search for a product you can sell through an affiliate. You will build up new keyword content as you add affiliate pages and will generate profit for zero cost. It might be for a product you cannot have drop shipped or are not licensed to sell. We use this technique to generate revenue for the larger scooters we are not yet licensed to sell."
Implement A Database
Linda Winegar
CEO
Fidjiti, LLC
Fidjiti.com
"Organize your information in a database. A database can store product and customer information and can easily help you to calculate growth, import into accounting software, create a website, ship orders, create catalogs, email newsletters, provide great customer service, market products, etc."
Examine The Wisdom Of Online Shoppers
Mike Svatek
Director of Marketing and Product Management
Baynote
Baynote.com
"Retailers need to consider the collective wisdom of their shoppers, versus relying heavily on internal merchandisers, to effectively pair products that should be considered together for upsell and cross-sell. People's behavior online — how much time they spend comparing two items, for example — better models how they are actually shopping and exploring complementary products."
Provide Something Of Value
Steve Delgado
Marketing and Communications Director
Arial Software
Arialsoftware.com
"Earn your visitors' time by providing something of value, ultimately earning their loyalty and their business. Studies as recent as 2007, by online marketing powerhouses KnowledgeStorm and MarketingSherpa, have found that white papers are the most frequently viewed content on a website, followed by product literature, media articles, case studies, and online video.
Effective Web Copy Is Key
"After putting the right product in front of the right visitor, you must use effective web copy to overcome the objections of the prospective buyer. You should be using great copy that knocks down all the "don't buy" barriers that may rise. This can be done using landing pages, whitepapers, reports, ebooks, audio, video, and online forums."
Consider A Content Site
Stephan Spencer
Founder and President
Netconcepts
Netconcepts.com
"Buy up a content site that ranks well in Google for relevant keywords and use it to market your products and drive PageRank to your eCommerce site. The best sites have high PageRank, a healthy Alexa rank, good inbound links with .edu and .gov links mixed in, lack of monetization, and are semi-abandoned."
Focus On What Works
Scott Fultz
President and Chief Technology Officer
Mountain Media
Mountainmedia.com
"Rather than always looking for the "next big trend," we recommend focusing on what's known to work: Providing valuable, insightful product information that's unavailable elsewhere. It motivates webmasters to link to you, creates keyword-rich content, and instills customer confidence."
Turn Customers Into Repeat Buyers
Ralf VonSosen
Vice President of Marketing
Infotopia
Infotopia.com
"Transform transactions into relationships by collecting and using customer information to follow up with customers and turn them into repeat buyers. Drive targeted email marketing and compelling promotions based on the customer information you have collected."
Use Social Networks To Boost Your Business
Corey Kossack
President
The Club E Network
Clubenetwork.com
"Tap into online social networks to drive business to your site. The old way of advertising is dead. If you want online shoppers, you might as well be in places that your shoppers are using on a daily basis."
Make Sure An eBiz Is PCI/DSS Compliant
Lisa Ronni
CTO
Wholesalecentral.com
"Credit card companies, in an effort to combat fraud, are now demanding PCI DSS compliance of all merchants who accept credit cards. Get PCI DSS certified and prominently display your certification icon on your website. Your customers will feel safer and you will be better protected from lawsuits."